5 Minute Fudge
Ingredients:
1 can Chocolate Fudge Frosting
12 oz semi-sweet Chocolate Chips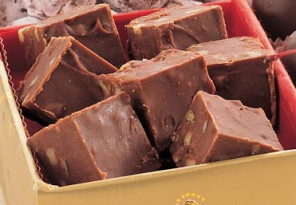 cooking time:
Method:
Place chips in a 1-quart bowl, cook 1 minute in microwave on high. Stir.
Remove lid and cover with frosting and cook for 50 seconds in microwave on high, add chips, stir and cook 30 seconds on high, if chips aren't melted continue microwaving at 20 second and stirring in between.
When all melted add nuts, stir and pour quickly into a lined pan or wax paper 7" x 11".
Cut into small pieces.
Let it sit out for about an hour then scoop pieces with a sharp knife, cover and refrigerate
Keep refrigerated as it melts real easy.