Almond Biscotti
Ingredients:
3 cup Flour
3 tblsp Brandy
1/2 cup Butter (melted)
1 cup Almonds (chopped)
1 tsp Vanilla
1 tsp Almond Extract
1/2 tblsp Baking Powder
1/4 tsp Salt
1 cup Sugar
3 Eggs (large)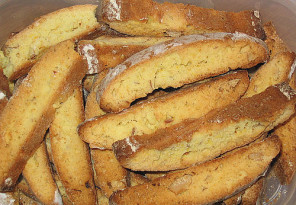 cooking time:
Method:
Mix sugar and butter.
Combine in brandy, almond extracts, vanilla, nuts and eggs.
Mix them well.
Stir in flour, baking powder and salt.
Shape it into loaves.
Place loaves on cookie sheet.
Bake it for 25 to 30 minutes.
Take out of the oven.
Let them cool slightly.
Reduce into 1/2" diagonal slices and return again to cookie sheet.
Bake it in a preheated oven at 350 F till both sides are brownish and toasted, it will take about 20 to 25 minutes.
Let them cool completely.
Store them in an airtight container.