Aloo Badiyan Rasedaar
Ingredients:
500 gm aloo (potatoes) - peeled, boiled
5-6 badiyan
2 tbsp oil
1 tsp cumin seeds
1 tbsp salt
1/2 tsp turmeric powder
1/4 cup yogurt-beaten smooth
2 1/2 cups water
1 tbsp coriander leaves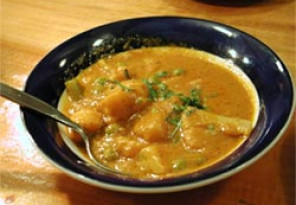 cooking time:
Method:
Break the potatoes, by holding them in your palm and closing your fists.
Heat oil and add the badis in very briefly-just put them in, quickly turn them over and remove from oil, keep aside. They should barely get darkened.
In the same oil, add cumin, when it splutters, add the potatoes and fry over high flame but just slightly. Add salt, turmeric and badis.
Stir-fry till mixed well. Add enough water to cover the potatoes and badis, bring to a boil and simmer, till the badis get soft, but hold their shape.
Add the yogurt and mix well and serve the aloo badi curry immediately garnished with coriander leaves.