Aloo Baigan
Ingredients:
1/2" piece of ginger root
2 Minced green chilies
1/4 cup Shredded unsweetened coconut
1/2 tsp Garam masala
4 tbsp Ghee
1 tsp Black mustard seeds
1/2 tbsp Whole cumin seeds
1/8 tsp Asafetida
6 md Potatoes, boiled & cubed
1 tsp Turmeric
1 tbsp Coriander
1 sm Eggplant in 1" cubes
1 tsp Salt
3 tbsp Fresh coriander, chopped
1 tbsp Lemon juice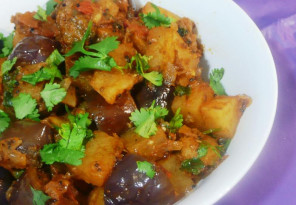 cooking time:
Method:
Combine ginger, green chilies & coconut in blender with 1/3 cup of water till smooth. Add garam masala & pulse for a few seconds. Set aside.
Heat ghee. Whe hot, add mustard & cumin seeds & fry for a few seconds. Stir in the asafetida & almost immediately put in the potatoes. Stir fry for 5 minutes Then pour in the mixture from the blender. Add the turmeric, coriander, eggplant, salt & half the fresh coriander. Mix very gently so as not to break the vegetables.
Reduce heat & fry very gently until the liquid has evaporated. In the aloo baigan mix lemon juice & remaining coriander greens & serve.