Aloo Poori
Ingredients:
For Alu:
500 gm potato
Oil
1 tsp salt
1/4th tsp turmeric powder
1/2 tsp coriander powder
1/2 tsp red chilly powder
8-10 cashewnuts
5-6 currants
1 tsp sesame seeds
2-3 curry leaves
1 tsp cumin seeds
1/4th tsp asafetida
For Puri:
2 cups all purpose flour (maida)
1/2 tsp salt
1 cup yogurt
vegetable oil for deep fry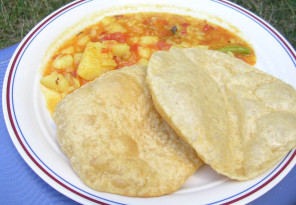 cooking time:
Method:
For the aloo
Peel potatoes and cut lengthwise.
Deep fry potatoes.
Heat oil in a pan.
Add cumin seeds,asafetida,curry leaves,sesame seeds,cashewnuts to the oil and mix.
Then add potatoes to it and keep aside.
Add red chilly powder,coriander powder,turmeric powder,salt and currants and mix.
It's ready to serve.
For the puri
Place the flour in mixing bowl with the salt.
Make a well in the middle of the flour and gradually stir in yogurt, mix well to form a supple dough.
Add water if needed.
Knead the dough for 7-10 minutes until it is soft.
Leave it for 20 minutes to get more soft.
Make balls out of this dough.
Roll out each piece on the well floured surface into a big circle (usually it will be bigger than a normal poori)
Heat oil in a Kadhai or wok (frying pan).
Deep-fry the pooris in hot oil for a minute, turn the side and fry till it is puffed and golden in colour.
Repeat this process until all the pooris are made.
Poori is make by making rolls of dough and pressing them in the disc form which are fried in oil. Aloo is the curry made with potatoes and then spiced up. Learn how to make alu puri.