Amritsari Fish
Ingredients:
8 fish fillet
200 gms gram flour
1 tbsp garlic paste
1 tbsp ginger paste
1 tsp ajwain
1 tbsp red chili powder
1 tbsp lemon juice
1 egg
100 gms curd
oil for deep frying
Salt To Taste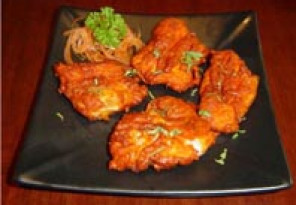 cooking time:
Method:
Clean, wash and cut fish into one and a half inch size cubes.
Apply salt, lime juice, ginger paste, garlic paste and red chilli powder.
Keep aside for 20 minutes.
Make a batter of gram flour, curd, egg, ajwain, salt and water.
Keep marinated fish pieces dipped in this batter for 15 minutes.
Heat oil in a kadai and deep fry the fish till golden brown and crisp.
Serve amritsari fish hot sprinkled with chaat masala and lemon wedges.