Badam Kaju Pista Burger
Ingredients:
Almond powder - 100 gms
Sugar - 60 gms & 25 gms & 20 gms
Anjir - 2 pieces
Cashew powder - 50 gms
Chopped almonds & pistachios - 2 tblsp
Chocolate colour, kesar & powdered cardamom - a little
Pistachio powder - 30 gms
Pista colour - a little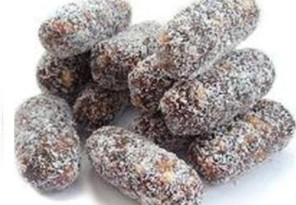 cooking time:
Method:
Make a sugar syrup of two-string consistency with 60 gms sugar and one fourth cup of water.
Add powdered almond, mix it well and take it off the flame.
Cool it.
Cut the anjir into small pieces and soak them into one-fourth cup of water for four hours.
Grind it well.
Add the ground anjir and 25 gms sugar in a madai and heat it on a slow flame.
Stir constinuously till it turns sticky in consistency.
Add chocolate colour, kesar and powdered cashew.
When it gets the consistency of a soft ball, take it off the flame.
Add chopped pieces of almonds and pistachios. Cool it.
Make a sugar syrup of less than one-string consitency with 20 gms sugar and one-eight cup of water.
Add pista colour ot it and take it off the gas.
Then add powdered pistachios.
Mix it well and allow it to cool.
Divide the formerly prepared almond dough into 30 parts.
Then divide the anjir mixture and the pistachio mixture into 15 parts each.
Take one part of the almond dough and press it a little in the shape of a bun.
Place it on a greased butter paper.
Then pace one part of the anjir mixture on it.
After this, place one part of the pistachio mixture and slightly press it.
Cover with another part of the almond dough.
Bake these pieces in an oven on 150 degrees Celsius for 10-15 minutes till the burger turns light brown in colour.
Cool it.
Garnish with kesar.
A modern age fusion Indian dessert. Learn how to make badam kaju pista burger.