Bailey Irish Cream Mousse Pie
Ingredients:
1 Pie Shell (pre-baked)
3 separated Eggs
1/8 tsp Salt
3/4 cup Bailey Irish Cream
2 cup Kool-Whip (divided)
1 cup chopped Walnuts (divided)
2 tblsp shaved Chocolate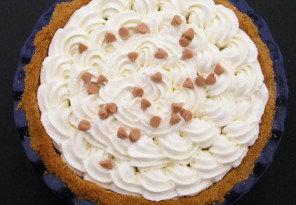 cooking time:
Method:
Beat egg yolks.
Combine Irish cream and salt to it.
Cook in the top of double boiler to make egg yolk mixture thicken.
Let it cool.
Beat egg whites till they are stiff.
Add egg yolk and Irish cream mixture, egg whites and 2/3 of the Kool Whip.
Mix 3/4 cup of the walnuts.
Place it into a pie shell.
Cover it with remaining whipped topping.
Drizzle remaining walnuts and chocolate shavings.
Place it in a freezer for four hours but no more than eight.
Taste the wonderful pie with bailey and Irish cream drizzled with walnuts and chocolate.