Baked Rice Broccoli
Ingredients:
2 cup cooked Rice
1/2 cup Butter
1/2 cup chopped Onion
1/2 cup chopped Celery
1 cup frozen Broccoli
1 can Cream of mushroom soup
1 can drained and chopped Water chestnuts
1 cup cubed Velvetta Cheese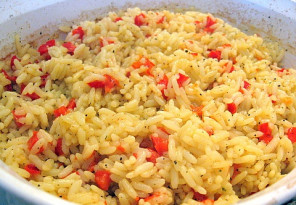 cooking time:
Method:
Melt butter in saucepan and saute onion and celery in butter.
Mix in a big dish cooked rice, onions, celery, broccoli, soup, water chestnuts and cheese.
Mix them all together well and put in a 9" x 13" casserole dish.
Cover the dish with foil and bake for 25-30 minutes at 350 degrees.