Bhang Lassi
Ingredients:
15 gms (1/2 oz) bhang (cannabis)
2 Cups warm whole milk
1/2 Cup sugar
1 tbsp Coconut milk
1 tbsp Almonds, chopped
1/8 tsp Ginger, powdered
1 Pinch garam masala
1/2 tsp Grenadine
1 Cup water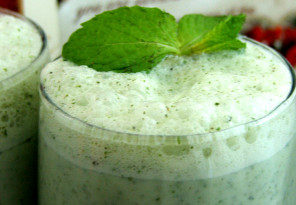 cooking time:
Method:
Take a pan and bring water to a boil
Now add bhang to it.
It it simmer for about 7 to 10 mins and close the flame and strain it.
With the help of a 2 tblp of milk grind the strained bhang. Repeat this process several times.
Add some more milk to the bhaang and grind it along with the almonds. Repeat this several times.
Strain this mixture and pour the milk, coconut milk, grenadine and boiled water into a pan.
While stiring add ginger, sugar and garam masala to the above prepared bhang mixture
Cool it in the refrigerator for few hours before serving the bhang lassi
Here is an easy recipe for bhang lassi. Learn how to make bhang lassi.