Bharuchi Dal
Ingredients:
500 gm urad dal
2 onion (pyaj)
1 tsp turmeric (haldi)
1tbsp ground ginger (adrak)
1 tbsp ground garlic (lasan)
1tblsp ground chiliy
1 tsp red chili powder
1 tsp cumin (jeera)
1tsp garam masala
3 tomatoes
for tempering:
5 cloves (lavang)
1 inch cinnamon (tuj/dalchini) stick
5-6 cardamom
1/2 tsp mace (javitri)
1 tsp whole jeera
2 tbsp. fresh methi
1/4 cup oil (tel) or ghee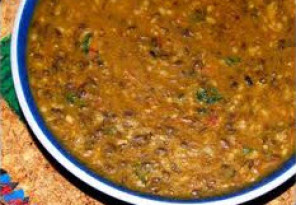 cooking time:
Method:
Cut one onion into small squares.
Put dal and diced onion in a pressure cooker.
Cook until tender.
Slice the other onion thinly.
Heat up oil in a pot and fry onion until light brown, mix in cloves, cardamom, cinnamon, javantri and whole jeera and fry for 1 minute.
Then mix in methi and fry for 1-2 more minutes.
Mix in cut tomatoes and all other ingredients except garam masala to the onion mixture.
Fry this for 8-10 minutes or until the oil begins to separate.
Mix in dal to it and mix well with a wooden spoon.
Cover with a lid and lower the heat and stir fry for 5-8 minutes or until the masala is well blended.
Mash some of the lentil with a wooden spoon against the side of the pot to thicken the sauce.
Mix in garam masala and spice up to taste with salt.
Serve roti or rice.