Bread Dahiwadas
Ingredients:
8 slices bread
4 cups curd
2 tbsp. raisins
1 tsp. chilli powder
1 tsp. powdered roasted cummin seeds
1/2 cup tamarind pulp, sweetened with sugar
Salt and sugar to taste
Oil for frying
2 tbsp. coriander leaves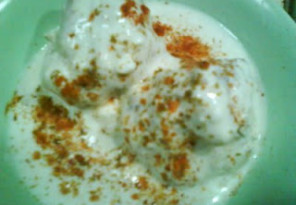 cooking time:
Method:
Remove bread crusts. Knead bread with a little curd and salt.
Make small balls, putting some raisins in the centre. Fry till crisp in hot oil. Drain and keep aside.
Beat rest of curd and add salt and sugar. Drop in the wadas.
Sprinkle with chilli powder and cummin seed powder, and pour tamarind pulp over.
Garnish with coriander leaves.
Unusual dahiwadas made of bread and then deep fried. And served like regular dahiwadas.