Chicken Korma
Ingredients:
1 (2 1/2 pound) cut-up chicken
2 cups yogurt
3 cloves garlic
2 medium onions, chopped
1 tsp paprika
2 tsp fresh ginger, chopped
2 tsp peanut or sunflower oil
2 tsp ground coriander
1/2 tsp ground chili
1 tsp cumin
Seeds of 2 peeled cardamom pod
1 tsp poppy seed
1 tsp turmeric
1 bay leaf
2 tbsp fresh coriander, chopped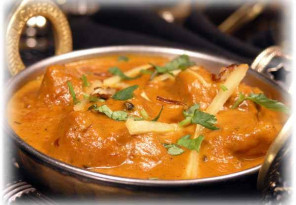 cooking time:
Method:
Place chicken in bowl and marinate in yogurt, 1 clove garlic, half an onion, paprika, ginger, salt and pepper for a few hours.
Heat oil in large heavy casserole; gently sauté remaining onion and garlic for 1 minute. Remove and set aside.
Add to casserole the coriander, chili, cumin, cardamom seeds, poppy seed and turmeric. Fry for a few minutes. Add the chicken. Pour enough water to cover and add remaining marinade.
Add onion and garlic with bay leaf. Simmer 45 minutes or until chicken is tender. Sprinkle the chicken korma with fresh coriander and serve.