Chocolate Cherry Easter Cookies
Ingredients:
1 1/2 cup flour
1/2 cup unsweetened cocoa powder
1/4 tsp salt
1/4 tsp baking powder
1/4 tsp baking soda
1/2 cup butter or margarine, softened
1 cup sugar
1 ea egg
1 1/2 tsp vanilla
48 ea cherries, keep the juice
frosting
6 oz semisweet chocolate chips
1/2 cup sweetened condensed milk
4 -5 tsp cherry juice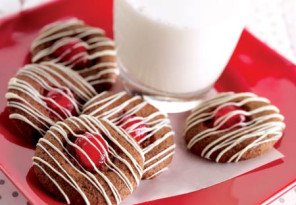 cooking time:
Method:
begin with stirring the following ingredients into a large bowl… flour, cocoa, salt, baking powder and baking soda.
stir all these together into the bowl.
take another bowl and beat into it butter and sugar until it is fluffy.
then you need to add egg and vanilla to the butter-sugar mixture and again beat well.
later also add dry ingredients to the butter-sugar mixture and beat until the mixture is well blended.
once the dough is ready you should shape it into 1-inch balls.
place these small balls on non-greased cookie sheet. make sure that you don't forget to push down center of each ball with the thumb.
now it is time to drain cherries and reserve juice.
you need to place 1 cherry in center of each indentation.
then let the oven heat to 350 degrees.
frosting
for frosting you should take a small saucepan and put chocolate chips and sweetened condensed milk into it.
next step is to heat the saucepan until chocolate into it melts. stir in 4 teaspoons cherry juice. if you find it too thick you can add more juice to it.
finally spoon 1 teaspoon frosting over each cherry. you need to spread it in such a way that it covers the cherry entirely.
you should bake it about 10 minutes or until done.
lastly, remove it to the wire rack and let it cool.
you will see the cookies freeze nicely.