Chocolate Praline Easter Cake
Ingredients:
1/2 cup margarine or butter
1/4 cup whipping cream
1 cup brown sugar; firm pack
3/4 cup pecans; coarse chopped
1 packet devil's food cake mix
1 1/4 cup water
1/3 cup oil
3 eggs
topping
1 3/4 cup whipping cream
1/4 cup powdered sugar
1/4 tsp vanilla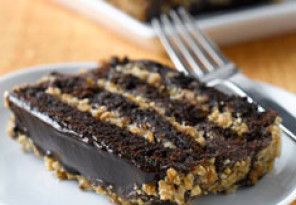 cooking time:
Method:
begin with preheating the oven to 325 degrees f.
then take a heavy saucepan for combining some of the ingredients like margarine, whipping cream and brown sugar into it.
you should cook the mixture over low heat just until butter is melted without forgetting to stir it occasionally.
when cooked, pour this batter into two 8" or 9" round cake pans.
you should sprinkle them evenly with chopped pecans.
now take a large bowl and combine cake mix, water, oil and eggs all together.
you are supposed to mix it all well at low speed until it gets moistened and then beat for 2 minutes at high speed.
then carefully spread the batter over pecan mix in the pans.
you need to bake it for 35-40 minutes or until the cake springs back when touched.
allow it to cool for 5 minutes and then remove from the pans.
cool it completely.
topping
for toppings begin with beating the whipping cream into a small bowl.
you should beat it until soft peaks are formed into it.
then mix powdered sugar and vanilla and beat once again until stiff peaks are formed into it.
now it is time to assemble the cake. so place one layer on plate with praline side up. and then spread with 1/2 of the whipped cream.
after that top with the second layer, again praline side up and spread with remaining whipped cream.
you can garnish the cake with whole pecans and chocolate curls.
do not forget to store in the refrigerator.