Coconut Cupcakes
Ingredients:
6 cups Fine Wheat Flour (Maida)
2 tsp Baking Powder
1 tsp Sodium Bicarbonate (Khaane Wala Soda)
1 tsp Salt
4 cups Sugar
1 1/2 cup unsalted Butter
6 big sized Eggs
3 tsp Almond Essence
3 tsp Vanilla Essence
2 cups Butter Milk (Mattha / Chhaach)
5 1/2 cups Coconut (Khopra/Narial)
For Icing
900 gms Cream Cheese (Hung Curd)
1 1/2 cup unsalted Butter
2 tsp Vanilla Essence
1 tsp Almond Essence 1Kg 400 gms Icing Sugar, sifted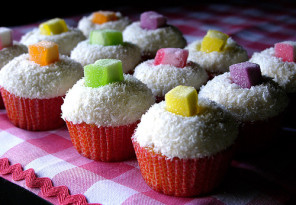 cooking time:
Method:
First preheat the oven at 160 degrees.
Grease a tin and place pape cases on it.
Mix flour, baking powder, soda and salt.
Beat and cream suagar and butter.
Add eggs one at a time.
Now mix the essences.
Next add the flour alternatively with the buttermilk.
Mix half of the grated coconut.
Fill the paper cases with the mixture.
Bake them for 25 - 30 minutes or till they are golden in color.
For icing beat the cream cheese, butter, sugar and the essence till smooth and creamy.
Place a layer of this icing on the bakes cupcakes and sprinkle some coconut on them.