Coffee Drop Cookies
Ingredients:
1 cup Sugar
1/2 cup Shortening
1 Egg (beaten well)
2 cup Flour
1/2 tsp Baking soda
1/4 tsp Salt
1 tsp Baking powder
1/2 tsp Cinnamon
1 tsp Cloves
3/4 cup Cold Coffee
1/2 cup Raisins (chopped)
1/2 cup Nuts (chopped)
1 tsp Vanilla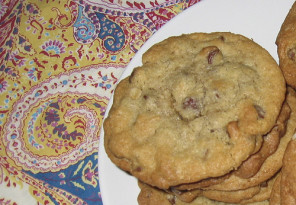 cooking time:
Method:
Mix shortening and sugar together to make cream type mixture.
Combine egg.
Mix well.
Combine flour, baking soda, salt, baking powder, cinnamon and cloves together.
Add alternately with coffee to make mixture wet.
Combine raisins, nuts, and vanilla.
Mix well.
Combine more flour if required to make a drop cookie dough.
Drop them onto greased baking sheet.
Bake them at 400 degrees F for about 10-15 minutes.