Cranberry Apple Salad
Ingredients:
2 cup raw Cranberries
3 cup Mini Marshmallows
1/2 cup chopped Walnuts
2 cup diced Apples
1/4 tsp Salt
1 cup heavy Cream
1/2 cup Sugar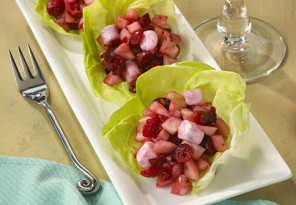 cooking time:
Method:
Combine the cranberries and sugar and chill them.
Take out from the refrigerator and add the remaining ingredients. Serve chilled.