Easter Baskets and Bunnies Cupcakes
Ingredients:
1 1/2 teaspoons baking soda
2 eggs
3/4 cup hershey'®s cocoa or hershey'®s special dark® cocoa
1 3/4cups all-purpose flour
1 1/2 teaspoons baking powder
2 tsp vanilla extract
1 tsp salt
1cup milk
2 cups sugar
1 cup boiling water
1/2 cup vegetable oil
creamy vanilla frosting
green, red and yellow food color
3-3/4 cups mounds sweetened coconut flakes, divided and tinted*
suggested garnishes (marshmallows, hershey's mini kisses brand milk chocolates, licorice, jelly beans)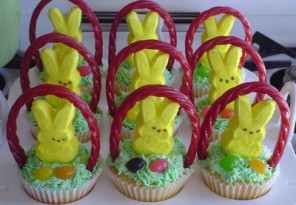 cooking time:
Method:
let us begin with tinting the coconut.
to tint coconut you need to take a small bowl and combine 3/4-teaspoon water with several drops green food color into it.
next, stir in 1-1/4 cups coconut and toss it with the help of fork until it is evenly tinted.
you need to repeat the above process with red and yellow food color and remaining coconut also.
now set the oven to heat to 350°f.
and then line the muffin cups (2-1/2 inches in diameter) with paper bake cups.
next, take one more large bowl and stir into it the following ingredients sugar, flour, cocoa, baking powder, baking soda and salt.
further add some more ingredients to it like eggs, milk, oil and vanilla.
then beat the mixture on medium speed of mixer for 2 minutes.
in order to let the batter be thin you should stir in boiling water to it.
after that fill the muffin cups 2/3 full with the prepared batter.
now bake these for 22-25 minutes or until wooden pick inserted in center comes out clean.
finally let it cool completely.
next step is to prepare the creamy vanilla frosting so frost the cupcakes.
make sure that you immediately press the desired color tinted coconut onto each cupcake.
don't forget to garnish it in such a way that it resembles easter basket or bunny.
creamy vanilla frosting
for this you should take a medium sized bowl.
pour into it 1/3 cup softened butter or margarine and beat it well.
next, add 1 cup powdered sugar and 1-1/2 teaspoons vanilla extract to the butter mixture and again beat well.
then add 2-1/2 cups powdered sugar alternately with 1/4-cup milk, beating to spreading consistency.