Easter Egg Baskets
Ingredients:
1/2 cup chopped red bell pepper
4 tablespoons butter, melted and divided
1/8 tsp black pepper
3 tblsp chopped onion
3 tblsp milk
1/4 tsp salt
1/2 cup chopped green bell pepper
8 (6-inch) flour tortillas, divided
4 eggs
4 bacon slices, cut into 1-inch pieces
1/4 tsp hot pepper sauce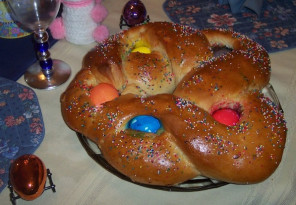 cooking time:
Method:
set the oven to heat to 350°f to preheat it.
then begin with taking 6 tortillas and brushing them all with melted butter.
after brushing allow them to stand until pliable. it could take about 5 minutes.
next step is to gently ease the buttered tortillas into 6 small custard cups.
now it is time to shape the handles. for this you need to cut each of 2 remaining tortillas into 3 (1-inch) strips in such a way that it makes 6 strips in all.
one more you should brush the strips with remaining butter.
now invert 6-cup muffin pan and place tortilla strips around bottom of each muffin cup.
after that you need to bake both, the tortilla baskets and handles. bake them for 10-15 minutes or until they turn golden brown.
when baked properly remove the baskets and handles to wire rack and let them cool.
meanwhile, cook bacon in medium skillet over medium-high heat so that it is crisp. do not forget to stir occasionally.
after cooking remove the bacon from skillet and set aside.
next step is to pour off the entire but 1-tablespoon bacon fat from skillet.
then add bell peppers and onion to the skillet.
you should cook and stir it until it is crisp-tender.
after that whisk together these ingredients… eggs, milk, salt, hot pepper sauce and black pepper.
add this mixture to the already prepared vegetable mixture in skillet.
again cook and stir it until eggs are set.
next, stir in bacon.
now divide the prepared egg mixture evenly among 6 prepared baskets.
finally place handle in each basket.
the yummy baskets are ready so be served warm.