Egg Omelette
Ingredients:
2 Eggs
1/4th onion (finely chopped)
1-2 green chilies (finely chopped)
1/4th tomato (chopped), optional
2 tbsp chopped coriander leaves
Salt To Taste
1/4th tsp red chili powder or to taste
1 tbsp milk
Oil to fry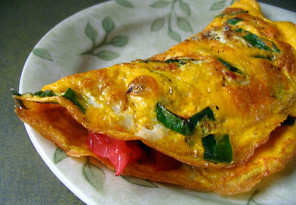 cooking time:
Method:
Beat the eggs and add milk, chopped onions, tomatoes, green chilies, coriander, salt & chili powder.
Beat the mixture until foamed.
Heat oil in a frying pan and add the mixture. Cook over low heat till mixture is firm and flip it and fry the other side.
Serve hot with bread or Paratha.