Egg Paratha
Ingredients:
Whole Wheat flour (atta) as per consumption
Eggs (same as number of parathas)
1 tbsp Oil
Butter /oil for frying
Salt as per taste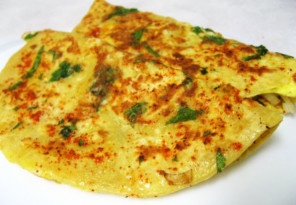 cooking time:
Method:
Make dough out of whole-wheat flour (atta),1tbsp oil and salt as you would do for any paratha/roti.
Make dough 30 minutes before and cover it with moist muslin cloth.
Take a Ping-Pong ball size lump of dough. Now roll it slightly using dry flour.
Now nicely spread little oil over it and fold it in a semi circle shape.
Spread little oil again and fold it along the length and roll it in a triangle shape.
Cook on a pre-heated Tawa (griddle). Turn it.
Pierce the egg from the top. Now slowly open the layer of paratha and pour the egg on it.
Spread butter/oil on this side and let it get golden.
Similarly cook on the other side till golden brown.