Erissery
Ingredients:
2 cups Ripe Pumpkin (sliced into pieces )
1/2 cup Red oriental bean
1 cup Coconut milk
2 tsp Oil
2 Dried chilli
1 tsp Mustard
2 springs Curry leaves
Water
Salt to taste
To be Ground in paste
1 cup Grated Coconut
1 Small onions
1/2 tsp Cumin
1/2 tsp Turmeric powder
2 or 3 Green chilli
2 Garlic pods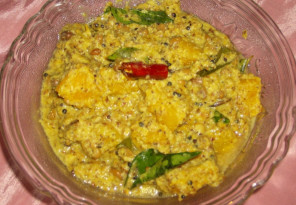 cooking time:
Method:
Soak beans overnight.
Cook pumpkin with beans after adding enough water and salt
Put the grounded paste to the pumpkin, boil for sometime and keep aside.
Heat oil in a pan, season mustard, curry leaves and dry chillies and add the thick coconut milk. Pour it to the cooked pumpkin curry and stir well
Yummy erussery is ready to be served.
Try out Erissery with pumpkin and beans on the occasion of Onam