Fig Pudding
Ingredients:
8 oz breadcrumbs
8 oz figs (anjeer)
6 oz shredded suet
2 eggs
scrape of nutmeg (jaiphal)
1/2 pint milk (doodh)
6 oz sugar (cheeni)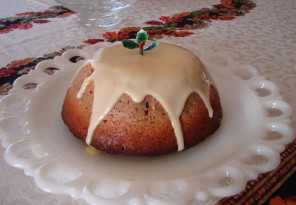 cooking time:
Method:
Chop the figs very finely and mix with the breadcrumbs, sugar, suet and nutmeg.
Add the beaten eggs and the milk.
Put the mixture into a greased basin, cover with a double piece of greased paper and steam for 3 hours.
Serve with wine foam sauce.