Fish Moilee
Ingredients:
1 fish Rawas, Surmai or Halwaa
1 onion cut in strips
1 inch ginger griunded to paste
10-12 green chillies chopped
few curry leaves
1 tomato cut in strips
1/2 coconut grated
1/2 tsp cornflour
1/2 tsp lime juice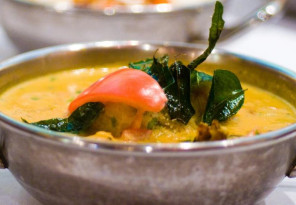 cooking time:
Method:
Marinate fish in salt for 15-30 minutes and semi-fry carefully.
Saute the onion, ginger, chillies, curry leaves, tomato in oil till light brown.
Soak the grated coconut in warm water and then remove and keep aside first milk.
Take rest of the milk, pour into fried masala and put in fish pieces.
Cook for 10 minutes. When cooked add cornflour dissolved in water and boil.
Then add first milk. Add juice of half a lime or to taste.