Fruit Delight Pudding
Ingredients:
1 cup Red Jelly
1 cup Green Jelly
1 Tin Mix Fruit
1 small Cake
3 cup Fresh Cream
1 cup Milk
1 tsp Custard Powder
4 tsp Sugar
1 Orange
1 Apple
1 cup Grapes
1 slice Pineapple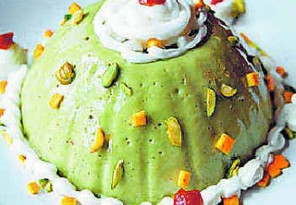 cooking time:
Method:
Mix the custard powder in a little milk.
Boil the rest of the milk.
When it comes to a boil , while continously stiring add the dissolved custard powder to the milk.
While stiring add the sugar.
When the mixture thickens put off the flame.
Beat the cream till frothy.
Cut the fruits in small pieces.
Cut small pieces of the cake.
Prepare both the jellies as instructed on the packet.
Now in bowl mix the pieces of the cake, mix fruits, custard, cut tin fruits, half jelly and half cream.
Let this mixture set in the refrigrator.
When fully set take it out and decorate with the rest of the jelly and cream.