Fudge Brownie Pie
Ingredients:
1 - 9 inch Pastry shell (unbaked)
6 oz semisweet Chocolate Chips
1/4 cup Butter
14 oz sweetened Condensed Milk
1/2 cup Bisquick
2 Eggs
1 tsp Vanilla Extract
1 cup chopped Walnuts
Chocolate Ice Cream for topping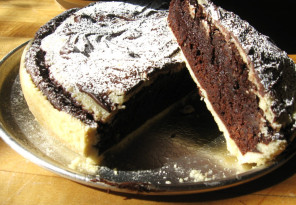 cooking time:
Method:
Bake pastry shell for 10 minutes in a preheated oven at 375 degrees F.
Take it out of the oven.
Low oven temperature to 325 degrees F.
Melt chocolate chips with butter in a pan over low heat.
Mix chocolate mixture with the condensed milk, bisquick, eggs and vanilla in a mixer bowl till the mixture is smooth.
Combine walnuts.
Place into pastry shell prepared earlier.
Bake it till center is set it will take about 40-45 minutes.
Let it cool.
Serve it warm with chocolate ice cream if desired.
Enticing taste of chocolate chips and walnuts topped with chocolate ice cream.