Garlic Rice
Ingredients:
2 cup cooked rice
2 tsp crashed garlic
2 green chillies chopped
2 tblsp cashewnuts (kaju)
1 tblsp almonds(badam), slivered.
1 tsp chopped fresh coriander
2 tblsp ghee
Salt and pepper to taste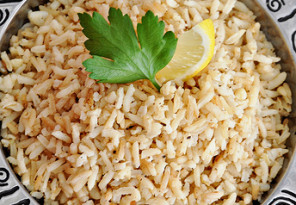 cooking time:
Method:
Take a heavy wok and heat ghee in it.
Now add garlic and green chilies to it.
Once garlic turns golden in color, add the dry fruits and roast for half a minute.
Now add the cooked rice, sprinkle salt and pepper and mix well.
Garnish the Garlic Rice with fresh coriander and serve.