Gingerbread Waffles with Peach Sauce
Ingredients:
1 Egg
1/4 cup Packed light brown sugar
2 cup Buttermilk baking mix or Bisquick
1 cup Milk
3/4 tsp Cinnamon
1 tsp Ginger
1/3 cup Molasses
1/4 tsp Nutmeg
Peach Sauce: 1 tblsp Lemon juice
16 oz sliced Peaches
1 tblsp Cornstarch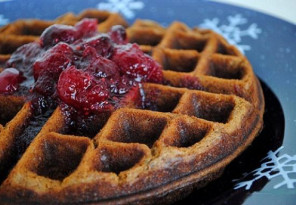 cooking time:
Method:
Combine baking mix, milk, egg, molasses, sugar, ginger, cinnamon and nutmeg.
Pour 1/2 cup of batter in preheated waffle iron. Texture of finished waffle will be cake-like; it is not intended to be crisp.
Repeat with remaining batter.
For Peach Sauce:
Drain liquid from peaches into a 4 cup glass measure. Stir in cornstarch mixed with lemon juice.
Heat on medium until mixture thickens. Cut peach slices into pieces and add to sauce.
Serve over waffles.