Golden Pound Cake
Ingredients:
3 cup Flour
1 tsp Baking Powder
1/4 tsp Salt
2 3/4 cup Sugar
1 1/4 cup Butter, softened
1 tsp Vanilla Extract
1 tsp Almond Extract
5 Eggs
1 cup Evaporated Milk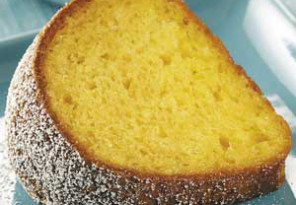 cooking time:
Method:
Heat oven to 350 degrees.
Grease and flour 12-cup bundt cake pan.
Mix flour, baking powder and salt and set aside.
Beat sugar, butter, vanilla, and eggs in large bowl with electric mixer on low speed 30 seconds, scraping bowl constantly. Beat on high 5 minutes, scraping bowl occasionally.
Beat in flour mixture alternately with milk on low speed. Pour into pan.
Bake 1 hour 10 minutes to 1 hour 20 minutes or until toothpick inserted in center comes out clean.
Cool 20 minutes.
Remove from pan to wire rack.
Cool completely, about 1 hour.