Hot Cross Buns
Ingredients:
15 gms Active dry Yeast
1/2 cup warm Water
1 cup warm Milk (Doodh)
1/2 cup Sugar (Cheeni)
1/4 cup Butter
1 tsp Vanilla Essence
1 tsp Salt (Namak)
1/2 tsp Nutmeg (Jaiphal) Powder
7 cup Refined Flour (Atta)
4 Eggs
1/2 cup Currants (Kishmish)
1/2 cup Raisins (Kishmish)
2 tblsp Water
1 Egg Yolk
1 recipe Icing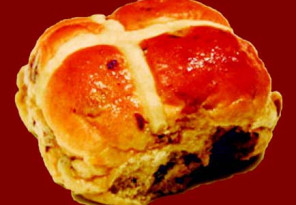 cooking time:
Method:
Heat the milk and water to 110-115 degrees f.
In a large bowl, dissolve the yeast in warm water.
Add the warm milk, sugar, butter, vanilla, salt, nutmeg and 3 cups flour.
Beat until smooth.
Add the eggs, one at a time, beating continuously.
Stir in the dried fruit and enough flour to make a soft dough.
Turn out onto a floured surface and knead until smooth and elastic for about 6-8 minutes.
Place in a greased bowl and turn over to grease the top.
Cover with a damp towel and keep aside in a warm place till the dough rises to double its original size (about 1 hour).
Punch the dough down and divide into 30 balls.
Place on greased baking sheets.
Using a sharp knife make a cross mark(x) on each ball.
Cover again and let it rise until doubled (30 minutes).
Beat the water and egg yolk together and brush over the buns.
Bake at 375 degrees f for 10-12 minutes.
Cool on wire racks.
Drizzle icing over the top of each roll following the lines of the cut cross.