Jal Zeera
Ingredients:
1 cup tamarind
6 cups hot water
8 to 10 mint leaves
2 tablespoons cumin seeds
2 teaspoons black salt
1 teaspoon chilli powder
large pinch of garam masala
8-10 mint leaves for garnishing
3 teaspoons sugar
1 teaspoon lime juice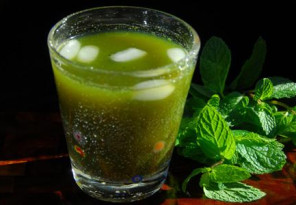 cooking time:
Method:
Soak tamarind in hot water for about 1/2 hour and extract juice. Strain.
Grind mint leaves and cumin seeds to a fine paste.
Mix all the ingredients together.
Chill and serve, garnished with mint leaves.
Serving: 10-12
A drink which is relished by one and all. The moint flavour makes gives it a refreshing touch. Learn how to make jal zeera.