Kalan
Ingredients:
1 Raw banana (the kerala nendran banana is the best if available)
6 cups Beaten, thick sour curds
200 gms Chena (jameen kand/karunaikizhangu/suvarne gadde)
1 cup Coconut
2 tsp Turmeric powder
1 tbsp Pepper powder
Salt to taste
2-3 Red chillies
2-3 Green chillies
1 tbsp Mustard seeds
1 tsp Methi seeds
few Curry leaves
Coconut oil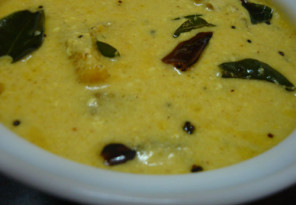 cooking time:
Method:
Wash and cut the vegetables into 2" square pieces. They should be thick
Grind the coconut and cumin to a smooth paste without adding water. Keep it aside.
Fry the methi seeds to a golden brown in a drop of oil and grind to a fine powder and keep this aside also..
In 1/2cup of water dissolve the pepper powder and strain it through a clean cloth. Cook the vegetables in this water with turmeric powder and salt.. When the water dries, add 1tsp ghee
Add the beaten sour curds to the cooked vegetables and boil, stirring occasionally, until the gravy is thickened.
Add the grinded coconut mixture and fenugreek powder into it and bring the gravy to boil stirring continuously.
Remove the gravy from flame.
Heat oil in a pan. When it smokes add the mustard seeds. When the mustard splutters, add the red chillies broken into halves and curry leaves and season the gravy with it.
Enjoy it with rice.
A preparation of buttermilk with thick gravy and the must on the menu for Onam