Kele Ki Barfi
Ingredients:
4 large ripe banana (pake kele)
11/2 cup milk (doodh)
2 cup sugar
2 tblsp clarified butter (ghee)
75 gm coconut (nariyal)
1/2 cup crushed walnut (akhrot)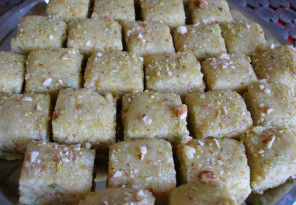 cooking time:
Method:
Peel banana and mash them.
Now cook mashed banana along with milk in a pan until milk dries up.
Now add butter and stir continuously till it turns brown in colour.
Now add sugar, grated coconut and walnut and stir.
Remove it from the flame. Grease a plate with butter and spread the mixture in the plate.
Its thickness should be 1/2". When it settles to be cut in pieces, cut barfi in desired shape.
Garnish with dry fruits and serve.
Here's a tasty, nutritious recipe of a sweet dish with banana and coconut. Learn how to make kele ki barfi.