Korma Chawal
Ingredients:
4 tablespoons (60 gm) butter
2 onions, sliced thin
1 piece fresh ginger, size of walnut, minced
3 fresh green chilies, seeded and quartered
1 bay leaf
2 cups fresh vegetables in season, diced, or substitute 2 packages of frozen mixed vegetables if absolutely necessary
2 cups long-grain rice
Dry Masala: 
2 teaspoons salt
2 teaspoons ground coriander*
1-1/2 teaspoons ground cumin*
1 teaspoon garam masala (optional)*
1/2 teaspoon red chili powder*
1/2 teaspoon turmeric*
3 cups chicken stock
2 tablespoons coriander leaves for garnish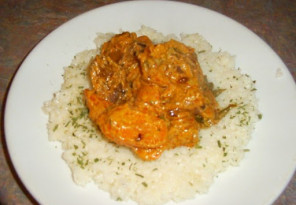 cooking time:
Method:
In a wok or heavy skillet, heat the butter, and add the onions. Stir-fry slowly until onions begin to turn brown, but are not scorched.
Add the ginger, the chilies, bay leaf and vegetables and stir-fry 2 minutes.
Add the rice and stir constantly until the rice begins to glisten, about 2 minutes.
Stir in the dry masala. Add the stock and bring to full boil. Cover and simmer for 15 minutes.
Remove pot from heat and let stand 10 minutes, being sure not to lift the cover. Then gently fluff rice with a fork, lifting from the bottom.
Garnish with coriander leaves and serve
Serves 4-6
Learn how to make curried rice or korma chawal. It is easy and simple to make.