Lady Finger Kichadi
Ingredients:
3 1/2 cup ladyfinger
2 cup thick curd
1/2 cup grated coconut
3 dry red chilies
1 mustard
2 springs curry leaves
2Â tsp oil
salt (namak) to taste
2 green chillies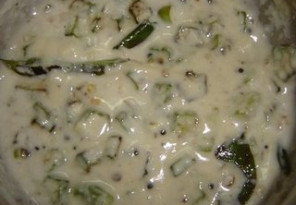 cooking time:
Method:
Cut the lady finger in small round pieces.
Deep fry ladyfinger in oil till crisp.
Pound grated coconut; green chilies and mustard into a thick paste and keep it aside.
Take oil in pan and over high flame season mustard, red chilli and curry leaves.
Lower the flame, add curd and the ground ingredients and let it simmer for few minutes stirring continuously..
Add fried lady finger and salt to it and remove from flame after it boils.
Note: You can use Pavakkai (Bitter Gourd) instead of Ladies Finger as a variation)
Delicious ladyfinger cooked with curd and coconut.