Lemon Love Notes
Ingredients:
Crust:
1/2 cup Butter
1/4 cup Sugar (powdered)
1 cup Flour
1 pn Salt
Filling:
2 Egg
1 cup Sugar
2 tblsp Flour
3 tblsp Lemon juice
1 tsp Lemon rind (grated)
1/4 tsp Baking powder
Topping: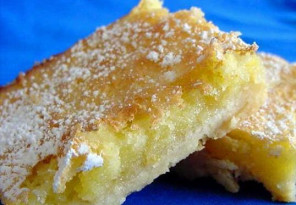 cooking time:
Method:
How to make Crust:
Mix butter and powdered sugar.
Combine flour and salt.
Pour into a pan.
Bake crust at 350 degrees for 18-20 minutes.
Mix eggs, sugar, flour, lemon juice, lemon rind and baking powder together.
Pour it over hot crust.
Bake it for about 25 minutes.
Let it cool.
Drizzle with powdered sugar topping.
Cut and shape into squares.
Store in tin box between wax paper.
Crispy and entrancing with a tangy taste of lemon.