Macaroni Fruit Pudding
Ingredients:
6 oz short cut macaroni
1 pint water
1 tsp salt (namak)
1 pint milk
1 egg
2 tblsp golden syrup
2 oz currants (kishmish)
2 oz sultanas
1 oz butter
grated nutmeg (jaiphal)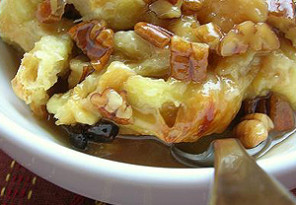 cooking time:
Method:
Boil the macaroni in the water with salt added 5-7 minutes.
Drain and return to pan.
Add the milk, bring to the boil, stirring all the time. Remove from heat, stir in beaten egg and the syrup.
Add the cleaned fruit and the butter, mix well.
Pour into a buttered pie-dish, grate nutmeg over.
Bake in moderate oven for 30 minutes.