Malai Gulab Jamun
Ingredients:
1 Cup full-cream powder milk
4 Teaspoon Suji
4 Teaspoon Cake Flour ( Maida )
4 Teaspoon Ghee
1/2 Teaspoon Baking Powder
Milk to make dough
Ghee for frying.
For Sugar Syrup:
2 Cups Sugar
2 Cups Water
For The Filling:
Some cream ( malai )
Desicated Coconut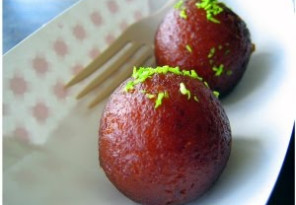 cooking time:
Method:
Make a dough with Powder- milk, suji, maida, ghee, baking powder & milk. Set aside for 2-3 hours.
Again make a dough by adding some more milk ( as the dough becomes stiff & hard after 2 hours ).
Make Sugar syrup and cool. Make elongated-shaped Jamuns and fry in ghee at medium heat.
Add to the syrup. Leave aside for about 4 hours. Squeeze out the syrup gently.
Make a slit at one end & fill with malai.
Roll in the desicated coconut.
Impress your loved ones with this Indian seet recipe of malai gulab jamun.