Mamidikaya Pulihora
Ingredients:
2 raw mangoes
4 c cooked rice
1 tblsp chana dal
1 tblsp urad dal
1 ts mustard seeds (rai dana)
2 whole red chilies (sabut lal mirch)
A bunch of curry leaves
1 tsp turmeric (haldi powder)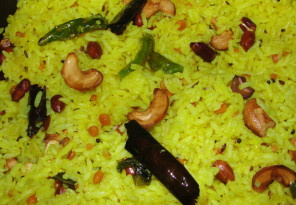 cooking time:
Method:
Peel, grate or chop the raw mango and mix well with the rice.
Heat oil in a pan and add the lentils, mustard seeds, whole red chilies, curry leaves and turmeric powder.
Add the rice to this and mix well.
Add salt suiting to your taste and serve hot.
A tangy new flavor of fried rice mixed with raw mango and other spices