Marble Cake
Ingredients:
120 gms melted Butter
160 gms Sugar
3 Eggs
200 gms Flour (Maida)
1/2 cup milk
60 gms Cocoa Powder
1 tsp vanilla Essence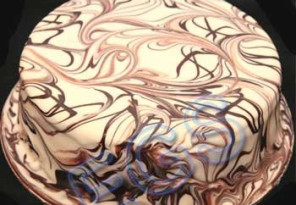 cooking time:
Method:
Mix the flour and the baking powder.
Cream together the butter, essence and sugar.
Add the eggs one at a time and beat till the mixture is smooth and sugar gets blended well.
Now mix flour and milk alternately in the mixture.
Mix well till the batter is smooth. Divide this batter into 2 parts.
In one portion add cocoa powder.
Grease and line a 8 inch baking tin. First pour 1 layer in the tin then the second and continue this process alternatively.
Bake this tin in a preheated oven at 180 - 200C for 15 minutes and then reduce the temperature and bake for another 10 minutes or until the cake gets golden on top.
Cool the cake and invert it on a dish.