Masala Omelette
Ingredients:
2 Eggs
1 meduim sized chopped Onion (Pyaj)
1 small sized chopped Tomato (Tamatar)
2 chopped Green Chilli (Hari mirch)
Salt to taste
1/2 tsp Garam Masala
A pinch of Curry Powder
1/2 tsp Cumin Seed Powder (Jeera)
1 tsp Olive Oil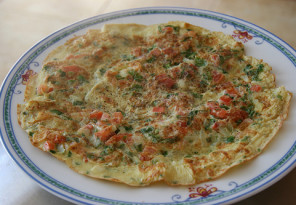 cooking time:
Method:
Beat the eggs thoroughly in a basin.
Add the onions, tomatoes and the green chillies. mix thoroughly.
Add the garam masala powder, curry powder and salt. mix well.
Heat the oil in a non stick pan and add the cumin seeds.fry for a few seconds over a medium flame.
Pour the egg mixture and cook on both sides till light brown in colour.( reduce the flame) serve hot.