Matar Mushroom
Ingredients:
1 1/2 cup green peas (matar) shelled
200 gms mushrooms (goochi)
fresh 2 tblsp oil
4 green cardamoms
1" cinnamon
2 large onions
1 tblsp ginger (adrak) paste
1 tblsp garlic (lasan) paste
1/2 cup tomato (tamatar) puree
1 tblsp red chilli (lal mirch) powder
1 tblsp coriander powder
1 tsp turmeric (haldi) powder
1 tsp garam masala powder
salt (namak) to taste
1/2 cup cashewnut (kaju) paste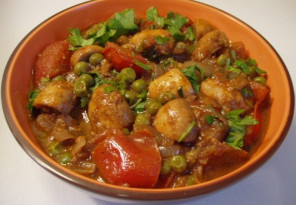 cooking time:
Method:
Clean, wash and cut mushrooms in quarters.
Cut onions finely.
Heat up oil in a kadhai.
mix in green cardamom, cinnamon stick and cut onions and stir fry until light golden brown.
Mix in ginger paste, garlic paste and stir fry for half a minute.
Mix in tomato puree, red chilli powder, coriander powder, turmeric powder, garam masala powder and salt and stir fry till oil leaves the masala.
Mix in cashew nut paste dissolved in one cup of water, stir well.
Add a cup of water, bring it to a boil and then mix in green peas and mushrooms.
Adjust seasoning. Stir fry on low heat up for five minutes.
Serve hot with naan and roti.