Morning Glory Fruit Shake
Ingredients:
2 cup Bananas (sliced)
2 cup Strawberries (sliced)
2 cup Pineapple or Papaya (chopped)
1 cup Apples (chopped and peeled)
1/2 cup Ice cubes
1 tsp Honey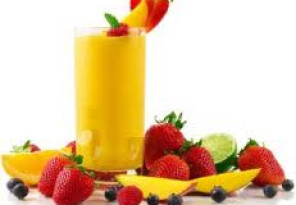 cooking time:
Method:
In a blender blend on high speed a combination of bananas, strawberries, pineapples, papayas, apples, ice cubes and honey.
Blend till smooth.
Serve immediately for breakfast.
Delicate and divine taste of strawberries, pineapple, papaya, apple, banana and honey.