Moru Curry
Ingredients:
2 tblsp Yogurt
1/2 cup Coconut paste
1 tblsp Oil
1/4 tsp (optional)Â  Fenugreek powder
1/2 tsp Cumin seeds
1/8 tsp Turmeric
a pinch Mustard seeds
1 tblsp chopped Onion
4 broken  Whole red chilly
1/2 tsp  Garlic
1 tsp Ginger
Curry leaves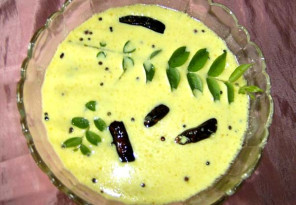 cooking time:
Method:
Blend coconut, curd and green chillies in a blender.
Add 1 cup water, red chilly powder, turmeric and salt to the mixture,bring to a boil and remove from the heat.
Heat the oil separately. Add mustard seeds, cumin seeds, fenugreek seeds to the oil and let them splutter, then add the chopped onion, the red chillies,the garlic, the ginger and the curry leaves and season the curry with it.