Mothers Day Chocolate Pie
Ingredients:
1/2 pint Whipping Cream
Pinch of salt
1 1/2 large Hershey bar with almonds
1//2 pint Cool Whip
6 tsp cold water
1 tsp vanilla
2 pie crusts (meringue, graham or oreo)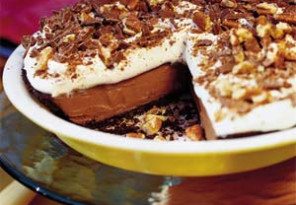 cooking time:
Method:
Break the bar into small pieces.
Melt the chocolate in a double-boiler or on medium heat in the microwave, carefully so as not to scorch.
When finished melting, add and the cold water.
Let the chocolate cool for a few minutes.
Whip the cream with the vanilla.
Stir the chocolate and then fold this and the cream together.
Fill the pies and serve.