Mushroom Paneer Pulao
Ingredients:
2 cups basmati rice
1 cup button mushrooms
1 cup paneer cubes
2 finely sliced onions
1 tbsp. tomato pulp
1 tbsp. garam masala powder
1 tbsp. ginger-garlic paste
5 tbsps. ghee
1 tbsp. finely chopped green coriander
1 tbsp. finely chopped fresh mint
a few cinnamon sticks, cloves and cardamom
2 tbsps. cashewnuts paste
salt to taste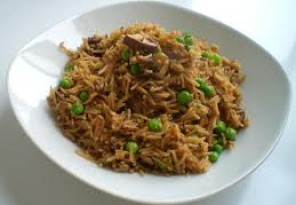 cooking time:
Method:
Clean and wash the rice. Soak in water for 15 to 20 minutes.
Heat 2 tbsps. of ghee in a kadai and fry the spices lightly.
Fry half of the sliced onions till golden brown. Add ginger-garlic paste and tomato pulp. Keep frying till a nice aroma arises.
Now mix the mushrooms and the paneer cubes along with the garam masala powder.
Add cashewnut paste and about a cup of water and salt to taste.
Simmer on a slow fire till cooked. The gravy should be slightly thick. To prepare the rice heat the remaining ghee in a handi and fry the remaining sliced onions till golden brown.
Now add the drained rice. Fry for sometime. Then pour 4 cups of water and add salt to taste.
Cook till the pulao is ready. Take another big handi.
Layer one third of the rice in it. Sprinkle a little of the chopped green coriander and mint over it.
Then spread one third of the paneer and mushroom mixture over.
Layer the second portion of rice followed by a sprinkling of the coriander and mint.
Spread the second layer of the paneer and mushroom masala. Repeat ending with a paneer and mushroom masala.
Close a tight fitting lid and put the handi in a preheated oven for about 5 minutes. Serve hot.
Good side dish to go with any any dal or curry. learn how to make mushroom paneer pulao.