Namakpara
Ingredients:
1 cup flour (maida)
1cup semolina (Suji)
41/2-51/2 tblsp lwater
2 tbsp beaten curd
3 tblsp ghee
1tsp Ajwain
¾ tsp Salt or to taste
Oil for deep frying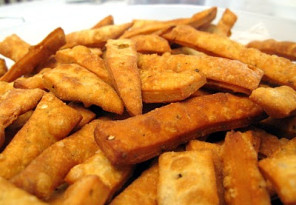 cooking time:
Method:
In a bowl mix flour, salt, ajwain and melted ghee till the mixture takes the form of breadcrumbs
In a separate bowl combine beaten curd with water. With this mixture knead a tight dough out of the flour salt mixture.
Cover this dough with a wet cloth piece for ½ hour.
Make balls of the dough and roll them into a ¼ thick flat bread of the size of a medium pizza.
Now with the help of a knife cut vertically and then into horizontally to get diamond shaped strips.
Heat the oil in a kadai. Fry these strips in small batches over medium flame till they are golden crisp.
Drain out the excess oil and place them to cool on tissue paper.
Fry all the strips in the similar manner and then store namakpare n an airtight container.
Namakpara is a popular holi recipe. It made from flour dough cut into strips and then deep fried. Good thing about namakpare is that it can be stored for 2 -3 weeks.