Neer More
Ingredients:
2 cups yogurt
1 1/2 tblsp lemon juice
4 green chillies
1 inch ginger (adrak)
1/4 cup coriander leaves (dhania patta)
10-12 curry leaves (kari patta)
1 tsp cumin seeds
1/4 tsp asafoetida
salt (namak) to taste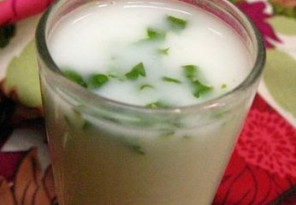 cooking time:
Method:
Churn the yogurt. Add about 1/4 litre chilled water. Churn briefly.
Wash green chillies and fresh coriander leaves, wash and peel ginger. Chop all the three ingredients finely.
Pound curry leaves with required quantity of salt.
Dry roast the cumin seeds and crush into a fine powder.
Add the prepared ingredients to churned yogurt. Mix in asafoetida powder. Adjust salt and refrigerate for about 1/2 hour.
Strain and serve in tall glass tumblers with some crushed ice.