Nothing But Love Cake
Ingredients:
1-1/3 cup all-purpose Flour
2/3 cup Cocoa Powder (unsweetened)
1/2 cup (1 stick) Butter (softened)
1-2/3 cup Granulated Sugar
1-1/2 cup Chocolate Mini Baking Bits (divided)
1 container (16 oz) White Frosting
1 Egg (large)
3/4 tsp Vanilla Extract
1 tsp Baking Soda
1/8 tsp Salt
2/3 cup Sour Cream
1/4 cup Buttermilk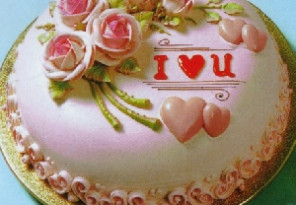 cooking time:
Method:
Lubricate bottoms of a (8-inch) round cake pan and a (8×8×2-inch) baking pan.
With the help of waxed paper line the pan; slightly lubricate it and flour pans and set aside.
In a large bowl mix butter and sugar till it becomes light and fluffy.
Mix egg and vanilla.
In medium bowl mix flour, baking soda, salt and cocoa powder.
In small bowl mix sour cream and buttermilk; add to creamed mixture alternately with dry ingredients, beginning and ending with flour mixture.
Pour the prepared batter evenly in the prepared pans.
Drizzle batter in each pan with 1/2 cup chocolate mini baking bits.
Now bake it in a preheated oven at 350°f for about 35 minutes.
Let it cool on wire racks completely.
Reduce round cake into two half to make semi-circles.
Keep square cake layer on serving plate.
Place one semi-circle cake along one side of square cake.
Bridge the gap between them with little frosting.
Place remaining semi-circle cake along adjacent side of square cake, to make heart shape.
Bridge the gap between them with little frosting.
frost entire cake with remaining frosting.
Decorate with remaining chocolate mini baking bits.
Store it in tight cover container.